Play –Walk
Play -Walk takes a casual Sunday stroll through Wellington and peels back some layers of play on the way. It tells the stories behind
what we play with and play on in our environment, things we may pass every day and not think twice about. By bringing out their meaning and context it highlights
their significance.
There are plenty of great opportunities for play out on the streets of Wellington. The places visited in the Play-Walk offer us a greater understanding of play in an urban context through the telling of stories.
Seemingly disconnected places are reconnected and contextualized, looked at from different points of view and explored in a tangible way.
Please come along for a walk and a coffee or two, maybe even an ice cream! but be prepared to interact and play in these environments!
Contact a.nevin@massey.ac.nz
National War Memorial & Carillion        www.nationalwarmemorial.govt.nz/
Central Park Brooklyn                        www.wellington.govt.nz/services/prksplygrnds/
Floriditas                                                www.floriditas.co.nz/
Cuba Mall , Bucket Fountain and Play Area   www.bucketfountain.co.nz
EB Games Cuba Mall, 72 Cuba St
Capital E                                      www.capitale.org.nz
City Gallery                                  www.citygallery.org.nz/
City To Sea Bridge                    en.wikipedia.org/wiki/City_to_Sea_Bridge
Kaffee Eis                                   http://www.kaffeeeis.co.nz
Frank Kitts Park    http://www.wellingtonwaterfront.co.nz/experience/play/play_spaces/frank_kitts_park/
Len Lye's Water Whirler http://www.sculpture.org.nz/engine/SID/10007/AID/1155.htm
Harbourside Market                http://www.harboursidemarket.co.nz/
Waitangi Park                           http://en.wikipedia.org/wiki/Waitangi_Park
Some pertinent links
http://www.bucketfountain.co.nz/index.html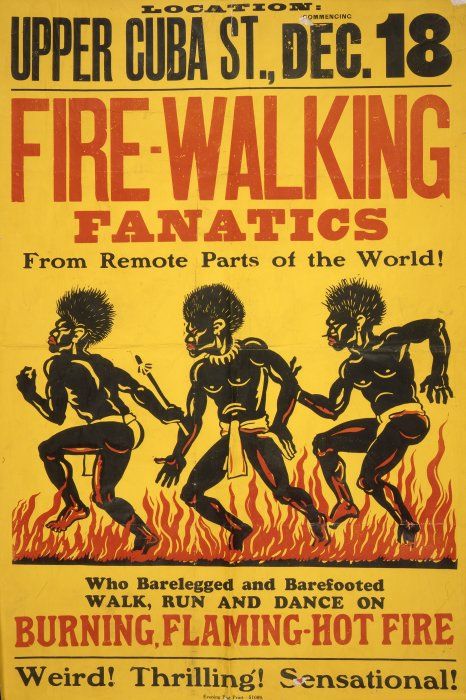 December 18 1914 Alexander Turnbull Library
http://find.natlib.govt.nz/primo_library/libweb/action/dlDisplay.do?vid=TF&docId
=nlnz_tapuhi745367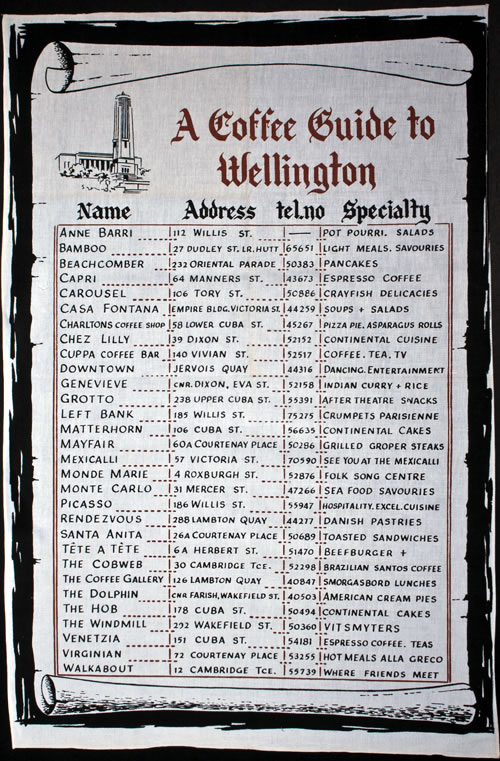 This tea towel, probably from the mid-1960s (it includes The Matterhorn which was opened in 1963), provides a coffee guide to Wellington, complete with descriptions of the type of food served in each café.
Other cafés listed include the Monde Marie coffee house and the Coffee Gallery (at Parson's bookshop). The Windmill was owned by Suzy van der Kwast, who later started Suzy's coffee lounge.
Life is a skate park

http://www.capitaltimes.co.nz/article/2821/Lifeisaskatepark.html
http://www.wellingtonwaterfront.co.nz/experience/play/play_spaces/waitangi_park/