What a great conference IE2005 has been!
Please see Post-Conference section for pictures, videos, blogs, links, and press about IE2005.
IE2005 Venue
IE2005 will be held at the Haymarket campus of University of Technology, Sydney in room CM05B.1.11 (and nearby rooms). The building is at the corner of "Ultimo Road" and "Quay Street" close to Central train station. Detailed instructions on how to get to UTS Haymarket Campus is available from here
City Campus Overview Map
Haymarket, City Campus
CM05B.1.11 is behind the UTS Library. A street map is available from whereis.com.au

The Game Room - All 3 Days 12:00-...
The Game Room is the place where conference delegates can relax and socialize during the conference. The room will be fully equipped with Xboxes, Playstation 2's, GameCubes and projection screens. The room is run by the Electronic Gamers Guild, and all of the consoles come equipped with the latest in games as well as many old classics. Among the Australian produced games available will be excellent Ty the Tasmanian Tiger 2, by Australian game developer Krome Studios.

The Game Room is open on all days of the conference from 12.00-18.00, however, upon demand it will remain open for as long as necessary in the evening! On Friday the 25th, the official conference Games Night will take place in the Game Room from the end of the last talk and at least until 21.00 - or when the last frag has been landed. There will be tough competitions and prizes to be won. Join the fun and challenge your colleagues.

The Game Room is placed in the Tower Building of the University of Technology, Sydney (Building 1). When you get to the main entrance of the Tower Building, head directly in and go down the ramp one level, turn left, and you are there. There will be signs at the Tower Building guiding people to the Game Room, so it will be hard to miss.

Conference Dinner - Wednesday Nov 23rd
Harbour cruise and buffet dinner on Matilda III starting promptly at 19:00 from the front of Sydney Aquarium at Darling Harbour, Pier 26, see image below. Additional tickets can be purchased from registration for guests that are not registered for the conference.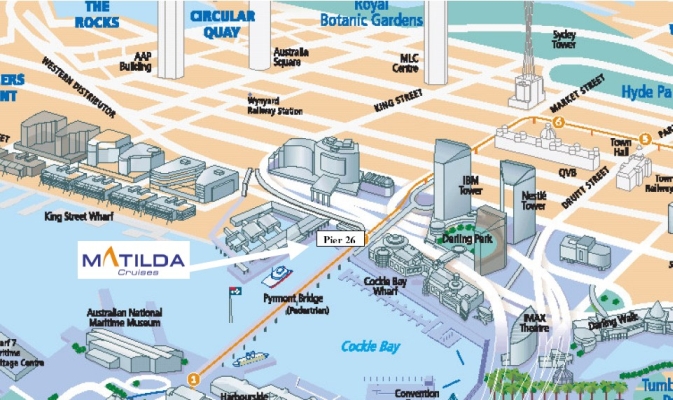 D Factory at the Powerhouse Museum - Thursday Nov 24th
5-6.00pm Special viewing of Sonic tai chi @ beta_space, meet at the main entrance to the Museum
6-6.30pm Drinks and music with DJ Sub Bass Snarl at Courtyard Cafe, enter via Macarthur Street
6.30-7.15pm Panel discussion with invited speakers moderated by Nell Schofield
7.15-8.30pm More music