Thank you all for a very successful workshop.
Please see Post-Workshop section for pictures, videos, and press about IE2004

[ Last update: 9 February 2004. ]

Location: UTS, Building 10, 235-253 Jones Street, Ultimo
Room: 10.6.430 Staff Training Room - Building 10, Level 6, Room 430
Directions to UTS City Campus, Map showing location of Building 10 / Faculty of IT.
Lost? Call FIT General Inquiries: 9514 1803 (Room 10.3.510)

IE2004: Australian Workshop on Interactive Entertainment
13 February 2004

Publication Details:
IE2004: Australian Workshop on Interactive Entertainment
Published: 13 February 2004
Edited by: Yusuf Pisan
Creativity & Cognition Studios Press
University of Technology, Sydney
ISBN: 0-9751533-0-8
Number of pages: 92
Cover Design: Ian Gwilt
Link to Table of Contents

Time
Event - Room 10.6.430 Staff Training Room (unless stated otherwise)
8:00
Registration + Tea/Coffee
8:50
Introduction
9:00
Invited Speaker
Personality Modelling for Interactive Storytelling
Chris Crawford
10:00
Multimodal Interaction
Chair: Yusuf Pisan
Room: 10.4.460 -- this session only
Educational Environments
Chair: Alan Blair
11:00
Tea/Coffee Break
11:20
Look, But Don't Touch!
Mark Pesce
12:00
Usability
Chair: Wayne Moore
1:00
Lunch - provided by IE2004 - Room: 10.4.280 Staff Room
2:00
Invited Speaker
Tough Love Between Artificial Intelligence and Interactive Entertainment
Andrew Gordon
3:00
Believable Agents
Chair: Manolya Kavakli
4:00
Presentation/Demos
blackBOX: Painting A Digital Picture of Documented Memory
Tatiana Pentes

Interactive Entertainment Robots
Mary-Anne Williams

4:30
Tea/Coffee Break
4:50
Panel Discussion
Chair: Will Uther

Steve Wherrett, Sony
Oliver Palmer, Tiger Spike
Ben Lenzo, Perception
David Kainer, Viva la Mobile
Jon Mason, NSW Government
David Taylor, Ambience

6:00
Closing
Invited Speakers:

---
Andrew Gordon, The Institute for Creative Technologies, University of Southern California

Dr. Andrew S. Gordon is a Research Scientist at the University of Southern California's Institute for Creative technologies. Andrew's research focus is on the role of representation in cognitive models of human reasoning. His investigative approach has been to author formalizations of commonsense knowledge used in human reasoning on a very large scale. His most recent work concerns the representation of the strategies that people use in real-world planning domains, and how these representations reveal the underlying assumptions that people have of their own reasoning processes. One product of this work is a content model of commonsense psychology, a formalization of a representational Theory of Mind.

Andrew leads research efforts on two ICT projects, the LEADERS project (a partnership with Paramount Pictures) and the Critical Leadership Analysis System (CLAS / TLAC-XL) project. These projects involve the development of new technologies for interactive drama and interactive character conversations, respectively.

Before arriving at USC, Andrew was a postdoctoral researcher at the IBM TJ Watson Research Center, where he led a project to identify the representational requirements of strategic planning. Before IBM, Andrew was a postdoctoral researcher in the Psychology department of the University of California Los Angeles, where he worked to develop retrieval systems and collaborative learning environments to support the professional development of mathematics teachers. Andrew received his Ph.D. in Computer Science and B.A in Cognitive Science from Northwestern University in Evanston, IL. His dissertation work involved the development of a large-scale knowledgebase of commonsense activities, and its use in support of browsing-based retrieval interfaces.

Dr. Gordon recently published his first book, Strategy Representation: An analysis of planning knowledge, from Lawrence Erlbaum Associates, Publishers. Strategy Representation: An Analysis of Planning Knowledge describes an innovative methodology for investigating the conceptual structures that underlie human reasoning. This work explores the nature of planning strategies--the abstract patterns of planning behavior that people recognize across a broad range of real world situations. With a sense of scale that is rarely seen in the cognitive sciences, this book catalogs 372 strategies across 10 different planning domains: business practices, education, object counting, Machiavellian politics, warfare, scientific discovery, personal relationships, musical performance, and the anthropomorphic strategies of animal behavior and cellular immunology.
---
Chris Crawford, one of world's most famous game designers, author of "The Art of Computer Game Design"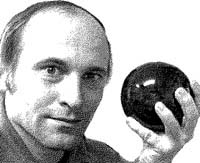 Chris started his career as a game designer in 1979 with Atari Video Computer System, where he created two educational simulation games: Energy Czar and Scram (a nuclear power plant simulation.) Chris has designed and programmed more than a dozen published computer games. Some names you might recognise are Eastern Front (1941), Legionnaire, Excalibur, Balance of Power, Patton Versus Rommel, Trust & Betrayal, Guns & Butter, Balance of the Planet, and Patton Strikes Back. Chris has also been developing "The Erasmatron", a development environment and engine for interactive storytelling which is publicly available from his web page.

Chris is one of the wolrd's most famous and influential game designers. "The Art of Computer Game Design" in 1982 might have been a "bunch of lucky guesses and inspired hunches" as he puts it, but having spent 25 years in the industry Chris has valuable design misadventures he can share.

Published books:
Chris Crawford on Game Design, June 2003
Chris Crawford on Game Design is all about the foundational skills behind the design and architecture of a game. Without these skills, designers and developers lack the understanding to work with the tools and techniques used in the industry today. Chris Crawford, the most highly sought after expert in this area, brings an intense opinion piece full of personality and flare like no other person in this industry can. He explains the foundational and fundamental concepts needed to get the most out of game development today. An exceptional precursor to the two books soon to be published by New Riders with author Andrew Rollings, this book teaches key lessons; including, what you can learn from the history of game play and historical games, necessity of challenge in game play, applying dimensions of conflict, understanding low and high interactivity designs, watching for the inclusion of creativity, and understanding the importance of storytelling. In addition, Chris brings you the wish list of games he'd like to build and tells you how to do it. Game developers and designers will kill for this information!

The Art of Interactive Design, December 2002
Chris Crawford's writing makes for fascinating and idea-inspiring reading that encourages readers to think about design in new ways as they grow to better understand the process and characteristics of what makes things interactive.

The Art of Computer Game Design, 1982, available online.
One of the most influential books on game design.
---